She is clothed with strength and dignity; she can laugh at the days to come.
The role women can play in the lives of others, as well as the richness of living in community is invaluable. Check out a number of opportunities we currently have happening in Women's Ministry here at Bethel!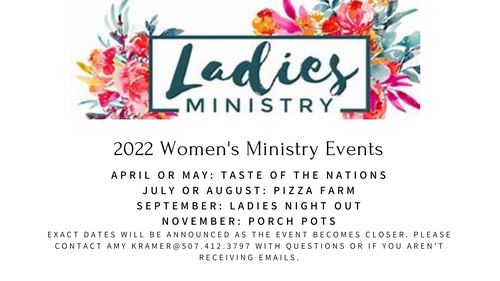 Please use the survey link provided below to help capture your needs and areas of interest as it relates to Women's Ministry at Bethel.
Bethel Women's Mentoring Ministry
Need a little spiritual nurturing? Sign up to be mentored by a spiritual mom. Spiritual moms are women from Bethel who are spiritually mature, empty nesters and/or a woman with no current responsibility in raising children, and who love to meet with women one-on-one. This is not a life-coaching program, but rather is designed for those who need nurturing in order to grow in their Christian faith. Click below to apply to be mentored and Jolene Kunkel will contact you. (If you are interested in being the mentor, click below to apply!)
Spiritual Moms are a group of women who are spiritually mature and nurturing. Their role is to come alongside you, encourage you, pray with you, and meet with you one-on-one. They will walk alongside you and go through a devotional called Infuse for eight weeks. If you are interested in having a Spiritual Mom, please click the link below to apply. The form is designed to learn more about you, in order to help us match you with a mentor. Within one week of receiving your application, a member of the Spiritual Moms leadership team will contact you to schedule a required follow-up orientation meetup with you, as part of the application process.


Embrace Grace at Bethel

Most churches advocate life and discourage women from getting abortions, but once a brave and courageous girl chooses life, a lot of times the church then steps away and has nothing to offer her for support at that point. She is then left with nine months of being scared, worried and feeling alone. She journeys into a season of being a single mom without direction and guidance from a spiritual family. This is where we're different. Our desire is to provide community, love, and support for future moms walking this difficult road. Go to EmbraceGrace.com for more information, or contact the church office (507) 451-8548 for current meeting dates and times!
We'd love to hear from you. Fill out the form below to get started.