Bethel Church is a group of people who love Jesus, and believe we exist to help others CONNECT with God, GROW in their faith, and IMPACT the world around us.

So whether its just tuning into one of our services online for the first time, or finding out how to get plugged into a small group or other activity we would love to help! Keep scrolling to find out more about who we are how you can get connected!


Ever wish you felt more confident in being able to bring up a spiritual conversation with people you love, but who don't know Jesus yet? Its hard to know what to say, how to say it, and even how to keep things from getting awkward fast. Good news! On Sunday April 25th at 12pm (after 2nd service) we are hosting a "conversation" about how to have an UN-awkward spiritual conversation with people you love! Pizza and childcare will be provided! What have you got to lose? Come and get some tools and confidence on how to help people know and understand the hope we have in Jesus and how they can too.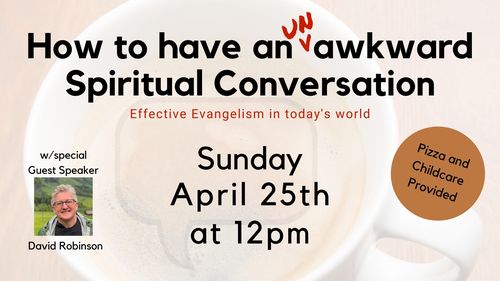 We understand that everyone has varying comfort levels and circumstances, which is why we have three ways to gather as a church family. We encourage you to choose whichever gathering is best for you and your family - but no matter what - stay connected! Each week we have 2 in-person gatherings Sunday mornings at 9 and 10:30am, a livestream of the first service starting at 9am, and many house group gatherings happening throughout the week! Click the button below for more information about each!
There's a lot of different opinions in the world today about what "church" should look like, as well as a growing disappointment with what the church is becoming in our world today. But have you ever wondered: "What's God's opinion is on what church should look like?" If you could sit down with him, what do you think his "top 5" list of things would be? Amazingly, in the book of 1 Corinthians we get a glimpse into that very answer. So journey with us as we allow God to shape our church community at Bethel through our study of His Word in the weeks ahead!
Whether you're exploring Bethel Church for the first time, or just wanting to stay in the loop with all that's happening on a week to week basis - here are the best ways to stay "in the know" about all things Bethel:

Explore the website.
By looking through the "Who We Are" tab you can get a feel for our staff, leaders, and what we believe as a church. And by looking through the "Ministries" tab you can see all we've got going on and how you might fit in. We'd love to connect with you more on any questions you have as you get to know us - so please don't hesitate to reach out!

Sign up for our email notifications.
This includes every big announcements we put out as a body - its the easiest way to stay in the know without having to constantly check a webpage! Simply email Office@BethelOwatonna.com the word "newsletter" and we'll add you to our updates list!

Follow us on Facebook.
We often post updates, videos, and other helpful updates through our Facebook page throughout the week. You can find us there at www.facebook.com/bethelowatonna

Contact Staff Directly.
Any of our staff would be happy to help or answer any more ministry specific questions you might have during this time as well. You can find each staff person's email on our Staff Information Page by clicking HERE.
We are currently searching for a full-time pastor who would oversee the areas of Student Ministry and Online Engagement at Bethel Church! If you have questions about the position simply email SearchTeam@BethelOwatonna.com and we would be happy to talk more. If you are interested in applying for the position you will need to submit a resume and fill out a brief survey so we can start to get to know you better. Thanks so much for your interest!
We'd love to hear from you. Fill out the form below to get started.